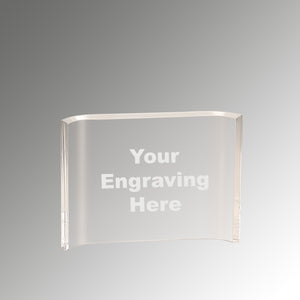 Crescent Acrylic
Thin, elegant, and affordable!
This Clear Acrylic Crescent looks great on a book shelf or desk! It is perfect for any recognition or occasion!
We can engrave almost any image, company logo, or verbiage you want!
We will contact you when your order placed for the Plaque Information. 
WE SEND PROOF IMAGES! 
Just include the information you want engraved during check out and provide us with an email! We take care of the rest!